Shrink sleeve plastic label films
Packaging that leaps off the shelf begins with eye-catching labels. No matter the brand, Pentalabel® films maximise shelf visibility, protect containers and contents, and create a vibrant billboard so your products get noticed and purchased time after time.

Shrink sleeve films
Pentalabel® Shrink Sleeve Films
Maximum billboard for contoured containers

Shrink sleeve labels help your products stand out, increasing shelf impact and consumer awareness. Pentalabel® films maximise shelf visibility so that your products get noticed.


Applications
Beverages
Soft drinks
Fruit juices
Dairy
Nutritionals
Water
Food
Craft beer
Alcoholic beverages
Fortified beverages
Household products
Candy and confections
Health and beauty products
Personal care products
Automotive
Benefits
Medium to super-high shrinkage properties
Available for simple & multiple contours, high shoulder & narrow neck containers
Applicable in steam, hot air, or infrared shrink tunnels
Ideal for sleeve application machinery
Excellent processability during printing, tube forming & shrinking
High-impact strength
Can be tailored to prevent labels from distorting or "smiling" during the shrink process
Available with fluorescent optical brightener for automatic detection scanning requirements
UV inhibitors to increase product shelf life
Printing
Suitable for gravure, flexographic, rotary offset & digital printing
High performance surface for enhanced printability allows multiple graphic schemes
Gloss/gloss & matte/gloss surface finishes
Available in transparent or opaque colours
Polymers:
PETg
PET
Vinyl
Polyolefin
Eklipse
Pentalabel® eklipse® Shrink Sleeve Films
Light-blocking films protect nutrients

With a light transmission rate of less than 1%, eklipse® shrink sleeve film protects light-sensitive ingredients in dairy, juice, fortified beverages, isotonics, and other products. Its light-barrier design may lower total package costs by replacing HDPE multi-wall primary containers or difficult to recycle multi-barrier primary containers.

Applications:
Beverage
Dairy
Juices
Organic beverages
Isotonics
Food
Health and beauty
Benefits:
Reduced total package costs (replaces HDPE multi-wall primary containers)
Extended shelf life
Vitamin protection (dairy products)
Off-taste reduction (dairy products)
Color protection
Brilliant graphics
No multiple flood coat printing required to achieve light blocking characteristics
Prints and seams like PETg
SmartCycle
Pentalabel® SmartCycle® is the next generation of shrink-sleeve film that makes recycling as easy as finding a recycling bin. Shrink sleeves made with Pentalabel® SmartCycle® film recycles directly with any PET bottle or container. No longer do you need to remove the label. Recycling labels right with the container or bottle increases the amount of post-consumer recycled material available which reduces the burden on new raw materials and enhances the circular economy.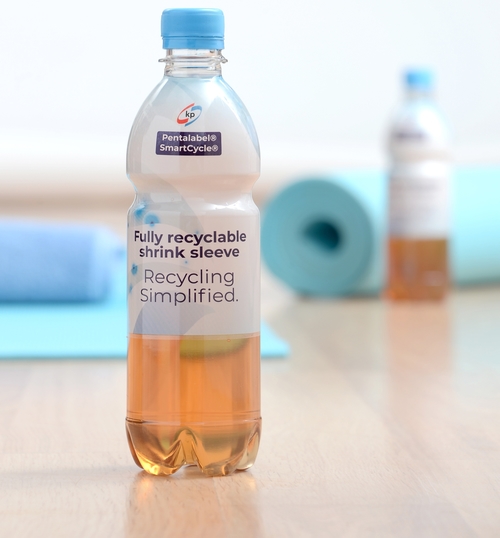 Applications:

Benefits:
Increased recycling productivity
Promotes greater recycling opportunities
High shrink rate properties
360° decorating/branding opportunity
Exceptional clarity
Exceptional printability
Contributes to a Circular Economy